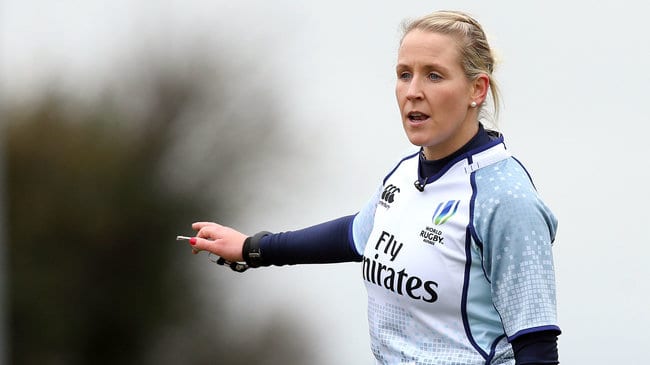 It's the final day of the Women's Rugby World Cup in Belfast with the host nation's Joy Neville taking charge of the big match of the day as New Zealand take on England. All the final standings have to be determined so there's six matches to decide the final 12 positions.
In the Southern Hemisphere, Nigel Owens is now the man in charge of this week's Australia v New Zealand match as the reshuffle caused by Jerome Garces injury concludes. Pascal Gaüzère is in Argentina as they host the South Africans.
In France, the new Top 14 season kicks off with Thomas Charabas refereeing last year's Champions, Clermont away at Bordeaux-Bègles.
Women's Rugby World Cup – final day
11th Place decider – Japan v Hong Kong
Referee: Aimee Barrett-Theron (SA)
ARs: Cwengile Jadezweni (SA) & Marie Lematte (Fra)
TMO: Kevin Beggs (Ire)
9th Place decider – Italy v Spain
Referee: Sean Gallagher (Ire)
ARs: Ian Tempest (Eng) & Rose LaBrèche (Can)
TMO: Simon McDowell (Ire)
7th Place decider – Ireland v Wales
Referee: Claire Hodnett (Eng)
ARs: Graham Cooper (Aus) & Hollie Davidson (Sco)
TMO: David Grashoff (Eng)
5th Place decider – Australia v Canada
Referee: Sara Cox (Eng)
ARs: Cwengile Jadezweni (SA) & Marie Lematte (Fra)
TMO: Kevin Beggs (Ire)
3rd Place decider – France v USA
Referee: Tim Baker (HK)
ARs: Alhambra Nievas (Spain) & Beatrice Benvenuti (Ita)
TMO: David Grashoff (Eng)
Final – England v New Zealand
Referee: Joy Neville (Ire)
ARs: Graham Cooper (Aus) & Hollie Davidson (Sco)
TMO: Simon McDowell (Ire)
The 2017 Rugby Championship
New Zealand v Australia
Referee: Nigel Owens (Wal)
ARs: Wayne Barnes (Eng) & Andrew Brace (Ire)
TMO: Rowan Kitt (Eng)
Argentina v South Africa
Referee: Pascal Gaüzère (France)
ARs: Romain Poite (Fra) & Nic Berry (Aus)
TMO: Glenn Newman (NZ)
France – Top 14 Round 1
Oyonnax v Toulouse
Referee: Mathieu Raynal
ARs: Jonathan Dufort & Sébastien Hebert
TMO: Éric Gauzins
Racing v Castres
Referee: Maxime Chalon
ARs: François Bouzac & Laurent Perrin
TMO: Laurent Sclafer
Montpelier v Agen
Referee: Tual Trainini
ARs: Cyril Lafon & Jean-Luc Rebollal
TMO: Éric Briquet Campin
Stade Français v Lyon
Referee: Sébastien Minery
ARs: Thomas Chereque & Philippe Milani
TMO: Denis Grenouillet
Brive v La Rochelle
Referee: Alexandre Ruiz
ARs: Ludovic Cayre & Akim Hadj Bachir
TMO: Patrick Dellac
Bordeaux-Bègles v Clermont
Referee: Thomas Charabas
ARs: Pierre Brousset & Laurent Breil
TMO: Éric Gonthier
Toulon v Pau
Referee: Laurent Cardona
ARs: Julien Castaignède & Jean-Claude Labarbe
TMO: Philippe Bonhoure