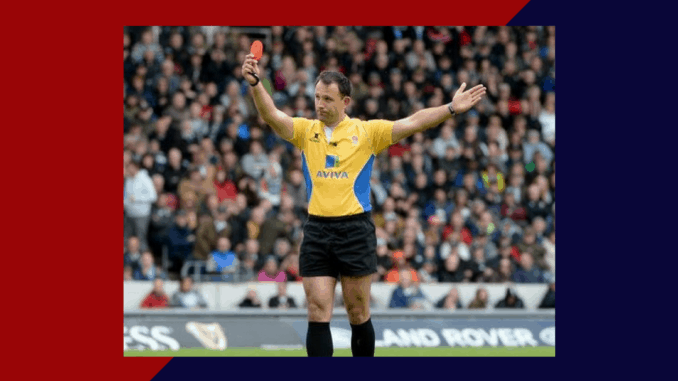 – after 7 seasons as full time RFU referee, Garner to join PRO14
– replaces Ed Morrison who retired in May
Greg Garner is to replace Ed Morrison as Head of Elite Referees for the new Pro14 competition.
Garner, 37, has been a full time professional Referee in England's Aviva Premiership since 2008, gathering up 116 top league matches, 15 international appointments and 40 European competition appearances too. His last refereeing appearance was in the recent play off when Stade Francais clinched a spot in next season's Champions Cup.
It is believed that Garner beat off stiff competition from around the officiating world with some big former professional referee names being touted as possible contenders.
With the expansion of the Celtic league to include the two South African sides, the referee development element will be key too as there has been some criticism in the lack of depth of quality referees being produced by the old Pro12 countries.
As part of the announcement from Celtic Rugby about the expansion, it noted that the new Pro14  "will expand to welcome members of SA Rugby's Premier Panel of full-time referees who will join our stable of elite officials."
That list includes Super Rugby final referee, Jaco Peyper and fellow referees Egon Seconds, Rasta Rasivhenge, Jaco van Heerden, Marius van der Westhuizen and Quinton Immelman. They will join the current band of  Frank Murphy (Ire), Seán Gallagher (Ire), Mike Adamson (Sco), David Wilkinson (Ire), Ben Whitehouse (Wal), Nigel-Owens (Wal), Marius-Mitrea (Ita), John Lacey (Ire), George Clancy (Ire), Ian Davies (Wal) and Andrew Brace (Ire).
In his new role, Mr Garner will manage all PRO14 match official appointments and oversee a structured and objective performance review process while liaising with all Unions across the PRO14 to identify and promote future match official talent.
Appointments will always be merit-based and neutral, wherever possible, to ensure the best fit for each Championship fixture. With his wealth of experience, Garner will continue to ensure that the pool of officials available within the PRO14 will be able to answer the needs of both neutrality and excellent capability with the ultimate aim of establishing a stable of full-time officials.
Garner, the newly-appointed GUINNESS PRO14 Elite Referee Manager, said, "I'm excited to be joining the Championship at such a monumental point in its history. The PRO14 is renowned for its positive play, creative players and adventurous coaches, and I know that referees have a role to play in the ensuring that teams have the right environment to flourish.
"By getting referees, coaches and players working together we can continue to provide fast, attractive rugby for fans right across the tournament.  This is a world class club rugby tournament and, as a result, the GUINNESS PRO14 creates a demanding environment for match officials. I'll strive to continue building on this platform set by Ed [Morrison] and the team at PRO14 Rugby by working closely with the teams, Unions and referee managers.
"We currently have some of the best referees in world rugby but our aim is to establish a High Performance talent pool across the participating Unions to appoint neutral match officials to all games, bringing through consistent talent and continually raising standards."
David Jordan, Tournament Director for PRO14 Rugby, commented, "We are delighted to have appointed Greg as our Elite Referee Manager after he emerged from a group of very talented candidates. In Greg we have found exactly the right person to follow on from Ed Morrison and ensure that the GUINNESS PRO14 becomes a hotbed for refereeing talent.
"As we know, referees play a crucial role in our games and having been a full-time official since 2009 and having refereed across International, European and Premiership fixtures for so long, Greg is well equipped to help maximise the performance of our panel of referees.
"I also know that he will build relationships with our teams and coaches who already contribute to a fantastic style of play in our tournament where positivity is always rewarded.
"Our stated aim is to have full-time professional match officials as part of the GUINNESS PRO14 and Greg is fully committed to helping us realise that ambition. Our Championship is only concerned with setting the highest standards possible and with Greg now at the helm we look forward to seeing the best refereeing talent in charge of our fixtures."