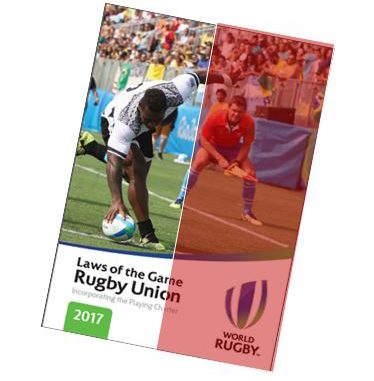 New Zealand's Stuff website has reported that a World Rugby committee are nearing the end of a process to thoroughly review the rugby law book. The outcome? A law book with a whopping 50 per cent less in it.
As long as rugby has existed, there have been refereeing controversies, many of which boil down to the fact that the law is complex and there's (generally) only one referee with one real-time view. Incidents can be seen and interpreted in different ways, when seen at different angles, and by different people. Obviously, the summer series has again brought that to the fore with the Sonny Bill Williams discussion as well as the more heated Romain Poite incident at the end of the third All Blacks v Lions test.
So in 2016, long before this summers events, World Rugby commissioned a small group of experts from around the game to go through a Laws Simplification Project to do…, well, the obvious!
New Zealand Rugby's high performance referee manager Rod Hill was joined by Mark Harrington (Head of Technical Services), James Fitzgerald, Adam Pearson and Dr Ross Tucker (sports scientist and research consultant) – all from World Rugby, Scotland's former South African international referee Tappe Henning and the RFU's Chair of Laws Committee, Chris Cuthbertson.  Between them, over the last 18 months they have been working and collaborating to completely re-write the law book.
Speaking to Stuff, Hill explained, "I've had three three-day lockups, where we've got through everything in the law book and said 'how do we make it easier to read and easier to understand'. They split the Law book between the participants and have been reviewing over various stages in recent times. Hill goes on to say, "We've reduced the number of words in the law book by 50 per cent. What's happened over a period of time, is that, as there's been some changes, they've just been added to the law book and it's a bit piecemeal. So you had exceptions here and there.
"So this project was about 'let's start from scratch and make sure it all reads well', to reshape the law book to get that as an outcome."
The draft new law book is currently with World Rugby's Rugby Committee and will be discussed by them, and across the global game, before decisions are made on whether to, or how to, bring the new law book into play. World Rugby have yet to agree any decision making or roll out timescale involved in this project.
Opinion

As referees, we know the game is complex. And, as with anything complex, that brings challenges and frustrations as well as opportunities for reform. Ask any player, pundit, journalist, spectator or referee, and we're sure that we'd all argue that the game needs to become simpler.

If the law book has less in it, then we know that players and coaches will look to take advantage of the gaps.  If half the scrum laws are removed, we wonder which ones and what will become of the scrum. But clearly some things are in need of simplifying – line of touch, accidental offside etc.

But, in simplifying, we think we may end up with more controversy, not less. More scope for interpretation, not less. More grey areas, not less.  And with will bring more focus on referees, not less. And we don't want that. The game is about the players and enjoyment.

Let's see what effect the current trial laws have and what World Rugby do with this draft law book.
If you have a copy of the draft loitering in your inboxes and you wanted to send us a copy (strictly not for publication) feel free to send it to ref@rugbyreferee.net