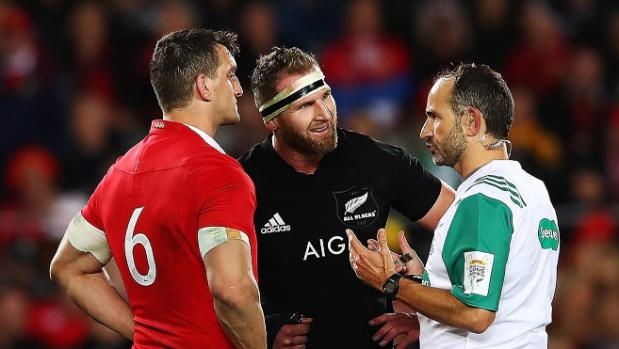 So our wish for us not to be talking about the officials hasn't really worked out this week either. 'Twas ever thus!
Firstly, what a great All Blacks v Lions series. Overall, I think most people would settle for a draw given the swings & roundabouts of the series, but think most rugby fans would prefer an outcome. This isn't cricket after all!
But the incident in the last 2 mins of the match will live long in memories. The situation and the subsequent furore was, frankly of the making of M Poite, not then helped by the law book, or the willingness of anyone to overlook what actually happened. Again.  But we say up front, the referee Romain Poite made a mistake. The mistake was to blow a penalty immediately rather than play advantage, and then to say there had been a knock on. That lead everyone down a path, which he eventually retracted on.
Now the emotions have died back slightly, let's look dispassionately at each element of that passage of play.
Was Kieran Read in front of the kicker at the restart?

Our view – we don't think so. He certainly looked well ahead in real time. The TV footage cut from a narrow view to a wide view just after the ball had been struck. The first frame of the wider angle (left) shows Kieran Read (top of pic) and the ball (white blob in the A of the pitch marking) a second after it was kicked. If you mentally roll that back a frame or two, it would put Read behind or on the line (and the ball) as the ball was struck.
We don't have a definitive answer, but the evidence suggests he wasn't clearly and obviously in front of the ball.
Also noted that Jerome Garces was at the near side and took up a position on the half way line (bottom of the pic). It's an unconventional position for an AR to be on at a restart kick (wold usually aim for the 10m line), so maybe he was watching for this specifically. We cant say for sure.
Was there foul play as Read made contact in the air?

This is one where in real time and the slo-mo and the freeze frame could lead you to different outcomes.  In real time, it looks like Williams (the Lions catcher) gets to it first, and Read hasn't a realistic chance of getting the ball and there is a collision in the air. But slowing down, the freeze frame shows Read's hand is there.
Was that a realistic chance of catching it?  We'd probably say so. With a leap like that, there comes momentum and there is contact, but it's contact in the legal act of trying to gain possession of the ball.
When reviewing these sorts of incidents, TMOs and Refs often look at positions and heights of the protagonists. Ie Has one or both got off the ground, is one higher than the other etc etc.  In this incident, they both get airborn, Williams gets higher as he has a standing start and gets a supporting lift from CJ Stander behind him. Read still gets impressively high.
With all that, it's hard to argue it's foul play so we move on.
There is also no view that suggests Read actually touches the ball – or this would be a knock on (and have saved everyone a lot of angst!).
Is Ken Owens (Lions 16) in front of Liam Williams?

Yes. The one fact in all this that is beyond argument. Probably the only fact! He is moving back towards his own posts when the ball lands hits him/he collects it.
Does the ball travel forwards off Liam Williams?

The slow mo video below, and real time suggests it did not. At best the ball deviates to parallel. But none of them suggests the ball bounces forward off Liam Williams who attempts to catch the ball over his shoulder while facing his own posts.
Therefore our opinion is that there is no knock on. This becomes a hugely important issue in law and one that has been ignored by many commentators (ex officials or not) since Saturday night.
Here's the slow mo of the contact in the air, the ball not going forward and Owen's catching it:
What laws are we talking about?

11.6 ACCIDENTAL OFFSIDE

(a)  When an offside player cannot avoid being touched by the ball or by a team-mate carrying it, the player is accidentally offside. If the player's team gains no advantage from this, play continues. If the player's team gains an advantage, a scrum is formed with the opposing team throwing in the ball.

(b)  When a player hands the ball to a team-mate in front of the first player, the receiver is offside. Unless the receiver is considered to be intentionally offside (in which case a penalty kick is awarded), the receiver is accidentally offside and a scrum is formed with the opposing team throwing in the ball.

11.7 OFFSIDE AFTER A KNOCK-ON

When a player knocks-on and an offside team-mate next plays the ball, the offside player is liable to sanction if playing the ball prevented an opponent from gaining an advantage. Sanction: Penalty kick
Given the point above, 11.7 is no longer relevant.
But didn't Romain Poite say it was a knock on?

Yes, he did. This is the major mistake, but not the one everyone is talking about. And where the law book starts to work against him if that's what it was. If he deems it as a knock on, then 11.7 is in play and the unavoidable bit in 11.6 isn't relevant.
But let's say it was a knock on for a moment. Did Ken Owens "play the ball"?

Helpfully the law book doesn't define what "play the ball" actually means. In this case, you can legitimately look at in two ways. 1) He caught it, so he must have played it. or 2)  It bounced so quickly to him and his reflex (being a trained professional rugby player) then made him catch the ball.
To us if you 'play' the ball, it is a conscious act. We would defy anyone who had a ball flung at them while walking down the street not to react to that and attempt to catch it.
Would anyone really see this as a penalty offence in a rugby match?
OK, so it wasn't a knock on? Accidental offside then under 11.6?

Yes. If you follow through the logic above, Ken Owens could not avoid the ball so, with no advantage, a scrum award to the non-offending side is a viable outcome.
The whistle went. Why did the TMO review it?

After the whistle goes, there doesn't appear to be any AR input from Jaco Peyper, but some questions from Lions players. Romain asks "George, can we check 'in the air'? – an informal review at this stage. After another replay (presumably on stadium screen too), Read is present with RP as is Sam Warburton. Then play is formally stopped for a review we assume at Romain's instigation.  Romain says "We're checking the challenge in the air"
He joins Jaco to watch screen. You can hear Romain say to Jaco "he goes for the ball". And then he goes on to say "playing in an offside position. No audible reply from JP, nor is he involved in, or inputs to the subsequent discussion. Maybe as a result of last week's controversy.
RP to TMO:  "Red touches the ball the second time he was in front."
TMO: "Those are all the angles."
RP: "Are you happy for the knock on. The challenge in the air was fair. Penalty kick against 16 red in front?"
TMO: Yes I am.
RP: OK
Romain then starts to walk back to the restart spot. Read and Warburton still there – he says "Fair challenge" [to both Captains while using hands to demonstrate he's talking about the challenge in the air]  and then he says "Oui, Jerome".
Clearly he is getting a message through the comms from his compatriot Jerome Garces.  There is then 24 seconds as Romain walks back to the spot, some argy bargy between Read, Owen Farrell, and Warburton who is urging his players to line up for a quick tap to be taken.
RP now speaks to both captains. "We have deal about the Red 16. He did not deliberately play the ball. It was an accidental offside. We go for a scrum to black."
Read tries to say it's not accidental.  RP holds ground.  Scrum then restarts.
We can only infer that Jerome Garces gives his view that it was deliberate, maybe even that it wasnt a knock on. We'll never know for sure.

So the TMO did not review the offside element?

It is 100% clear that the TMO was brought into play here to check on the actions of Kieran Reed in jumping for the ball and whether it was foul play or not.  That is what the TMO checked and reported back on. While the question that the TMO was asked when reporting back was the wrong way around, it wouldn't be for the TMO to offer a view on the offside element – again also, not one that was involved in controversy last week. That is the referees responsibility which he owns.
It is perfectly OK for an AR to offer a view to a referee – especially when these two are very well know to each other and are compatriots and friends.  The law provides for it, within the last part of 6.A.7, although the pedants would say 6.A.6 say it's not:
So correct outcome?
In our view, yes. But the way it all played out was poor. Why so? In our view:
There was no Foul Play in the attempt to jump for the ball.
There was no knock-on.
Ken Owens was in front of his team mate who last touched the ball.
He could not avoid the ball heading at him.
It was accidental offside as covered by 11.6.
Was it poorly communicated by Romain – absolutely yes.
Did he change his mind? Yes.
Was he influenced by Assistant Referee, Jerome Garces? Yes
Is that OK? Yes, but it could have been done on camera.
Is "We have a deal" appropriate language to speak to the Captains? Not really, but in a high pressure moment at the end of a high pressure few weeks, a little leeway for a non-English speaking person can be granted. We suspect, he meant "We have a decision" which is what he normally says
Is it OK for him to change his mind? Yes, but the picture it paints is not good for Romain or the game.
The law needs changing
Let's play this out for a moment as if the ball was knocked on. Are we really saying in 11.7 that a player who does what Ken Owens did here, in a reflex moment, was a rugby incident worthy of a penalty offence?  The same outcome of a high tackle. The same as a scrum collapse. The same as blocking or obstruction? The same as dissent?
Are we really saying that after a 10 match tour, a drawn test series, the third match level in a draw, should all be decided by a penalty "offence" like this?
We'd hope that anyone involved in rugby wouldn't want this. And we'd ask World Rugby to look at this closely. It's the same law that led to the Craig Joubert incident in RWC2015.
The fact that if this had been a knock on, would have lead to a situation where you could argue in law, either side of the debate and appear to be right. That needs fixing before it happens again.