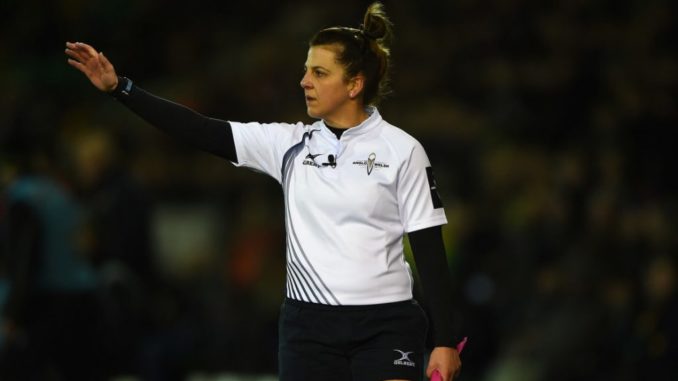 Aviva Premiership Rugby's first female official, Clare Daniels, has urged girls and women to take up officiating.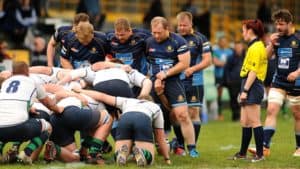 As part of last week's Women in Sport week, Daniels called upon girls and women thinking of trying officiating for the first time to give it a go as she looks to promote the game of rugby to more females.
Daniels, pictured above, made history by becoming the first female official in an Aviva Premiership Rugby match when she was fourth official for Bristol vs Exeter Chiefs in September 2016 – something that will live long in her memory.
"It was thrilling to be told that you have been appointed," Daniels said. "On the bigger picture, it's really nice when something like this happens to help break down barriers. Having female officials on the top of the game will hopefully make it a more normal thing eventually.
'It will be lovely in years to come to see this being something that is talked about as being a just normal thing.
Click To Tweet
"Hopefully it will be something other women and girls see and think 'there's no reason why I can't do that' and encourage more women and girls to get involved in officiating."
Last season, Daniels completed another first when she was named as assistant referee for Exeter's Anglo-Welsh Cup clash with Cardiff Blues – making her the first the first female assistant referee in top-level men's rugby.
She has already set the record for the most caps as a referee in women's Test matches, and has been a match official development officer for the RFU for over six years.
Daniels started playing rugby in her early 20s before becoming an official, and has refereed at two Women's Rugby World Cups.
"I got into rugby because it is for all shapes and all sizes. It doesn't matter whether you were tall, short, big or small, quick or slow, there was a place for you on the team and that's why I love rugby," she added.
"It's just a sport that involves everyone. My best friends are now people who I have met through rugby, it's just creates a close net of good friends and that's all because of team sport and rugby in general.
"At the World Cup in Canada in 2006, I was so focussed on my first game but I was absolutely thrilled to be picked for the tournament. I had one game to prove I was good enough for further games and that went well. I ended up refereeing the third-fourth play-off, and in 2010 I did a semi-final France v New Zealand which was great."
As well as officiating Daniels believes there are many life benefits for women taking up a sport, especially rugby.
She said: "I was never into sport as a young woman; I didn't get into sport until I was in my 20s but I wish I have got into it earlier.
"It is such a fantastic thing, it builds confidence and self-esteem, team sports especially, you make some great friends and friends for life. There's absolutely no reason why women and girls shouldn't get involved in sport.
"I wish as a teenager I had been encouraged to do more sport and I think the culture has changed over the years. When I was at school, if you weren't interested in sport you weren't encouraged but I think schools and colleges now try and encourage those who are not necessarily interested in sport to get involved.
"Rugby is the best team sport in the world in my opinion and the game's core values bring so much to it. The skills you learn as a match official are so transferable into everyday life and professional life.
"I would encourage any girls and women who are thinking about getting into match officiating to give it a go because they won't regret it."