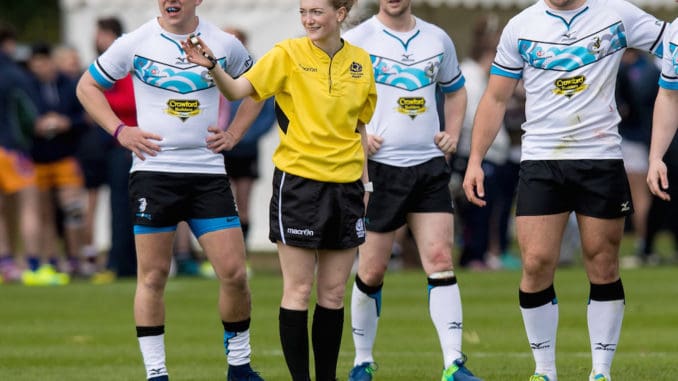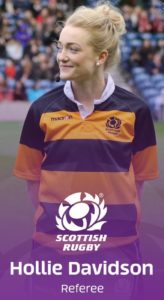 Scottish Rugby has today announced the appointment of former Scotland Women U20 cap, Hollie Davidson (pictured left), as Scotland's first contracted female rugby referee.
The 24-year-old, made her international refereeing debut on the World Rugby HSBC Sevens circuit earlier this year, and will now join the Scottish Referees High Performance structure to receive professional support in her development towards becoming a test-match referee.
Speaking on the announcement, Hollie said, "I am delighted to join Scottish Rugby as a contracted referee, having made the transition from player to match official and enjoyed refereeing from the moment I picked up the whistle.
My focus next season will be on securing my position on the sevens circuit, and putting myself in contention for the top matches, while also developing within the 15-a-side game on a domestic level."
Davidson added: "Refereeing rugby is completely different to playing, it is the type of involvement where you have to stay mentally sharp and on the button for 80 minutes.
"It keeps you involved in the game and match officials are often found in the clubhouse having conversations with teams after matches, as part of the rugby family. Although you are out on the park solo, there is a real team ethos among match officials, whether you are part of a referee society or go up through the ranks and become an elite referee, the support to succeed is available."
A former half-back, Hollie first became involved in rugby with her school team in Aboyne, progressing through the regional pathway and later representing Edinburgh University, while studying for a degree in economic history. She went on to play for BT Women's Premier League side, Murrayfield Wanderers, for a number of seasons and represented Scotland Women U20 from 2010-12.
In October 2015, after attending a Scottish Rugby women's only refereeing course, Hollie's interest in officiating grew and she later completed her Level 2 course before refereeing at Scottish tournaments and Rugby Europe competitions.  Hollie's development quickly progressed and she was subsequently selected to officiate at four of this season's World Rugby HSBC Women's Sevens Series tournaments.
She is currently appointed to several Rugby Europe Sevens tournaments across June and July and it is envisaged that Hollie will continue to officiate international sevens with a goal to be selected for the Tokyo Olympic Games in 2020.
Scottish Rugby Referee Commissioner, Tappe Henning, said, "As a result of our Women and Girls' Referee Development Strategy, implemented at the start of the 2015/16 season, Hollie has developed her officiating on a number of national and international stages.
"Hollie's playing background and knowledge of the game has seen her rise through the ranks while making an effective transition from player to referee.
This appointment demonstrates our commitment to developing female referees and ensuring the growth of home-grown talent, as we strive to compete for more appointments at World Rugby tournaments and international competitions."
In November 2015, England's Sara Cox joined the Elite Referee Unit in the RFU and went on to represent the Union at the 2016 Rio Olympics.