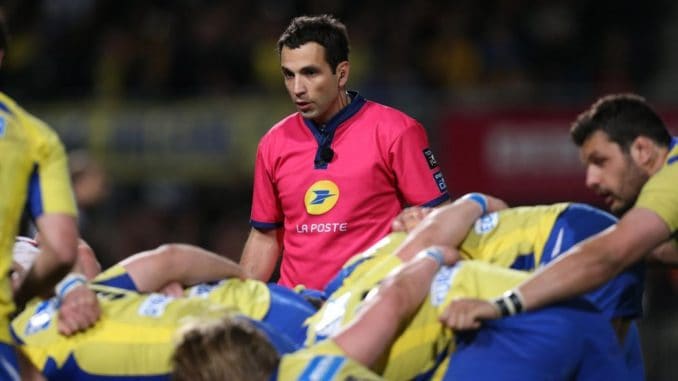 A quiet weekend for rugby…. Nope, not really. Plenty of action for most of the rugby playing world overseen by the leading referees and match officials from all over the globe. The international 'summer' window is now open so the Super Rugby takes a break (except for Nick Briant who gets to keep an eye on the NZ Conference as the Hurricanes take on the Chiefs in Wellington.)
The Frenchman, Mathieu Raynal moves up from the line to the middle as the Lions try and get back in the winning books, this time against the Crusaders.  Elsewhere, Matthew Carley of England continues his development path as Fiji travel to Melbourne to take on the Australians. And in a similar vein, the up and coming Paul Williams of NZ looks after the Italy v Scotland match up being played in Singapore.  The old hand of Nigel Owens will look after England's match in Argentina.
In Georgia, the World U20s goes into the final round of pool matches and back in Wellington,  the Women's international series also kicks off as South Africa's Aimee Barrett-Theron referees Australia v England. Tim Baker of Hong Kong looks after New Zealand v Canada in the second of the matches.
Enjoy all the rugby!
B&I Lions Tour
Crusaders v British & Irish Lions
Referee: Mathieu Raynal (Fra)
ARs: Angus Gardner (Aus) & Pascal Gauzère (Fra)
TMO: Marius Jonker (SA)
Internationals
Australia v Fiji
Referee: Matthew Carley (Eng)
ARs: Wayne Barnes (Eng) & Brendon Pickerill (NZ)
TMO: Ben Skeen (NZ)
USA v Ireland
Referee: Luke Pearce (Eng)
ARs: Federico Anselmi (Arg) & Chris Assmus (Can)
TMO: Neil Paterson (Sco)
Canada v Georgia
Referee: Andrew Brace (Ire)
ARs: Shuhei Kubo (Jpn) & Ben Whitehouse (Wal)
Japan v Romania
Referee: Alex Ruiz (Fra)
ARs: JP Doyle (Eng) & Will Houston (Aus)
TMO: Glenn Newman (NZ)
Argentina v England
Referee: Nigel Owens (Wal)
ARs: John Lacey (Ire) & Egon Seconds (SA)
TMO: Aaron Paterson (NZ)
Italy v Scotland (in Singapore)
Referee: Paul Williams (NZ)
ARs: Mike Fraser (NZ) & Jordan Way (Aus)
TMO: Minoru Fuji (Jpn)
South Africa v France
Referee: Glen Jackson (NZ)
ARs: Ben O'Keeffe (NZ) & Marius Mitrea (Ita)
TMO: Rowan Kitt (Eng)
World Rugby U20 Championship 2017
Wales v Samoa
Referee: Jamie Nutbrown (NZ)
ARs: Christophe Ridley (Eng) & Shota Tevzadze (Geo)
TMO: Charles Samson (Sco)
Argentina v South Africa
Referee: Frank Murphy (Ire)
ARs: Tom Foley (Eng) & Andrea Piardi (Ita)
TMO: Jon Mason (Wal)
France v Georgia
Referee: Pablo De Luca (Arg)
ARs: Christophe Ridley (Eng) & Tasuku Kawahara (Jpn)
TMO: Charles Samson (Sco)
England v Australia
Referee: Mike Adamson (Sco)
ARs: Dan Jones (Wal) & Andrea Piardi (Ita)
TMO: Jon Mason (Wal)
Scotland v Italy
Referee: Nic Berry (Aus)
ARs: Pierre Brousset (Fra) & Nika Amashukeli (Geo)
TMO: Johan Greeff (SA)
Ireland v New Zealand
Referee: Jaco van Heerden (SA)
ARs: Pierre Brousset (Fra) & Nika Amashukeli (Geo)
TMO: Johan Greeff (SA)
Women's Internationals
Australia v England (in Wellington)
Referee: Aimee Barrett-Theron (SA)
ARs: Rebecca Mahoney (NZ), Natasha Ganley (NZ)
New Zealand v Canada (in Wellington)
Referee: Tim Baker (HK)
ARs: Amy Perrett (Aus) & Brittany Andrew (NZ)
TMOs: Lee Jeffrey (NZ)
Super Rugby
Hurricanes v Chiefs
Referee: Nick Briant (NZ)
ARs: Richard Kelly (NZ) & Cam Stone (NZ)
TMO: Shane McDermott (NZ)