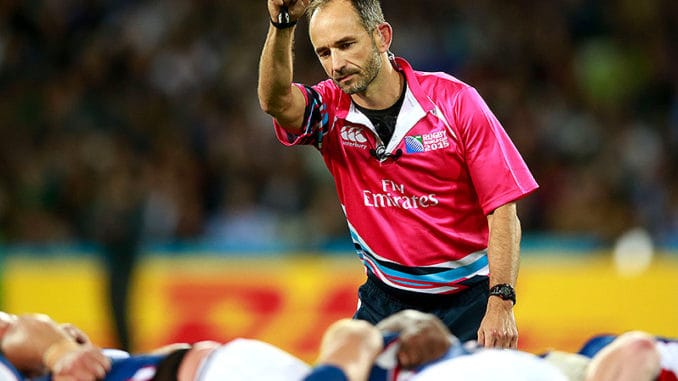 After the UK finals last weekend, the French Top14 takes it's turn in the spotlight as Romain Poite (pictured) oversees his second final in Paris as Clermont take on Toulon.
Down in New Zealand, the town of Whangarei hosts the British & Irish Lions in the first match of their tour to the land of the long white cloud. Gus Gardner from Australia jumps across the Tasman to kick them off against the Provincial Barbarians.
Ben O'Keeffe takes the Super Rugby circus on tour to Samoa for the first time as his team of 4 take control of the Blues v the Reds. The Pacific Island is gearing up to host a number of summer internationals so this is another important step for the island union.
On the international scene, the Asia Rugby Championship returns with Akihisa Aso of Japan overseeing the Hong Kong v Korean tie and in Georgia, the World Rugby's Under-020 Championship continues on Sunday.
Asia Rugby Championship TOP 3
Hong Kong v Korea
Referee: Akihisa Aso (Japan)
ARs: Taku Otsuki (Japan) & Teruhisa Kajiwara (Japan)
British & Irish Lions Tour
New Zealand Provincial Barbarians v British & Irish Lions
Referee: Angus Gardner (Aus)
ARs: Mike Fraser (NZ) & Brendon Pickerill (NZ)
TMO: Aaron Paterson (NZ)
World Rugby Under-20 Championship 2017
England v Samoa
Referee: Dan Jones (Wal)
ARs: Jaco van Heerden (SA), Tasuku Kawahara (Jpn)
TMO: Johan Greeff (SA)
New Zealand v Scotland
Referee: Tom Foley (Engl)
ARs: Christophe Ridley (Eng), Nika Amashukeli (Geo)
TMO: Jon Mason (Wal)
South Africa v France
Referee: Nic Berry (Aus)
ARs: Pablo De Luca (Arg) & Shota Tevzadze (Geo)
TMO: Charles Samson (Sco)
Ireland v Italy
Referee: Mike Adamson (Sco)
ARs: Christophe Ridley (Eng) & Nika Amashukeli (Geo)
TMO: Jon Mason (Wal)
Argentina v Georgia
Referee: Pierre Brousset (Fra)
ARs: Andrea Piardi (Ita) & Tasuku Kawahara (Jpn)
TMO: Johan Greeff (SA)
Australia v Wales
Referee: Frank Murphy (Ire)
ARs: Jamie Nutbrown (NZ) & Shota Tevzadze (Geo)
TMO: Charles Samson (Sco)
Women
Ireland v Japan Women
Referee: Joy Neville (Ire)
ARs: Helen O'Reilly (Ire) & Dermot Blake (Ire)
Top 14 Final – France
Clermont Auvergne v Toulon
Referee: Romain Poite
ARs: Thomas Charabas & Maxime Chalon
TMO: Jérôme Garcès
Super Rugby, Round 15
Blues v Reds (at Apia Park, Samoa)
Referee: Ben O'Keeffe (NZ)
ARs: Will Houston (NZ) & Angus Mabey (NZ)
TMO: Shane McDermott (NZ)
Crusaders v Highlanders
Referee: Glen Jackson (NZ)
ARs: James Doleman (NZ) & Michael Winter (NZ)
TMO: Glenn Newman (NZ)
Chiefs v Waratahs
Referee: Paul Williams (NZ)
ARs: Richard Kelly (NZ) & Mike Lash (NZ)
TMO: Ben Skeen (NZ)
Brumbies v Rebels
Referee: Nick Briant (NZ)
ARs: Damon Murphy (Aus) & James Leckie (Aus)
TMO: Ian Smith (Aus)
Force v Hurricanes
Referee: Rohan Hoffmann (Aus)
ARs: Graham Cooper (Aus) & Jordan Way (Aus)
TMO: Damien Mitchelmore (Aus)