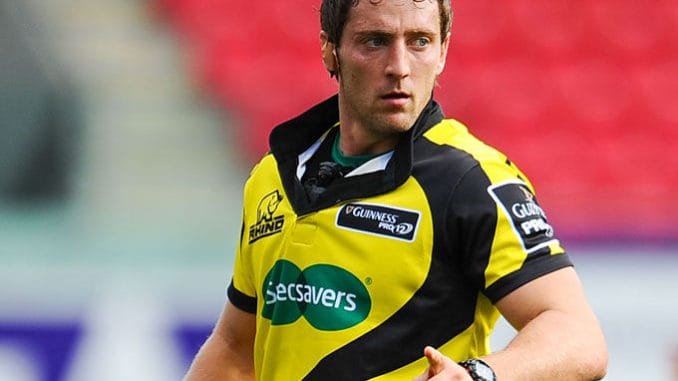 It's Thursday, so here are your weekend referees from around the world. First up in Super Rugby round 14 action this week will be Australian Gus Gardner who takes charge of the all-Kiwi clash in Auckland between the Blues and Chiefs. Ben O'Keeffe is looking after the Trans-Tasman clash match in Dunedin between the Highlanders and Waratahs on Saturday night, while Jaco Peyper will take charge of the all-SA match between the Sharks and Stormers in Durban.
As we reported earlier in the week, JP Doyle and Nigel Owens oversee the major UK finals, and Ireland's Andrew Brace (pictured) will continue his journey into the international arena, overseeing the England v Barbarians fixture at Twickenham.  On Friday night, John Lacey will blow the match which will decide if Northampton Saints or Stade Francais will take the final berth in the 2018 European Champions Cup draw.
Over in the far east, the Asia Rugby Championship is back after a short break, and Taku Otsuki takes charge of the Korea v Hong Kong tie up.
Asia Rugby Championship
Korea v Hong Kong
Referee: Taku Otsuki (Jpn)
ARs: Noriaki Hashimoto (Jpn) & Teruhisa Kajiwara (Jpn)
Assessor: Shin-ichi Iwashita (Jpn)
International
England v Barbarians
Referee: Andy Brace (Ire)
ARs: Marius Mitrea (Ita) & Ben Whitehouse (Wal)
TMO: Peter Fitzgibbon (Ire)
European Champions Cup – Play-off Final
Northampton Saints v Stade Francais
Referee: John Lacey (Ire)
ARs: George Clancy (Ire) & Nigel Correll (Ire)
TMO: Simon McDowell (Ire)
Super Rugby, Round 14
Blues v Chiefs
Referee: Angus Gardner (Aus)
ARs: Nick Briant (NZ) & Angus Mabey (NZ)
TMO: Glenn Newman (NZ)
Reds v Force
Referee: Brendon Pickerill (NZ)
ARs: Rohan Hoffmann (Aus) & Jordan Way (Aus)
TMO: Damien Mitchelmore (Aus)
Sunwolves v Cheetahs
Referee: Will Houston (Aus)
ARs: Shuhei Kubo (Jpn) & Akihisa Aso (Jpn)
TMO: Minoru Fuji (Jpn)
Highlanders v Waratahs
Referee: Ben O'Keeffe (NZ)
ARs: James Doleman (NZ) & Cam Stone (NZ)
TMO: Shane McDermott (NZ)
Rebels v Crusaders
Referee: Glen Jackson (NZ)
ARs: Paul Williams (NZ) & Damon Murphy (Aus)
TMO: George Ayoub (Aus)
Bulls v Hurricanes
Referee: Egon Seconds (SA)
ARs: Quinton Immelman (SA) & Jaco Pretorius (SA)
TMO: Christie du Preez (SA)
Sharks v Stormers
Referee: Marius van der Westhuizen (SA)
ARs: AJ Jacobs (SA) & Archie Sehlako (SA)
TMO: Marius Jonker (SA)
Jaguares v Brumbies
Referee: Mike Fraser (NZ)
ARs: Federico Anselmi (Arg) & Jose Covasi (Arg)
TMO: Santiago Borsani (Arg)
Lions v Kings 
Referee: Jaco Peyper (SA)
ARs: Egon Seconds (SA), Ben Crouse (SA)
TMO: Christie du Preez (SA)
Aviva Premiership Final
Wasps v Exeter
Referee: JP Doyle
ARs: Matthew Carley & Luke Pearce
TMO: Rowan Kitt
Guinness PRO 12 Final
Munster v Scarlets
Referee: Nigel Owens (Wal)
ARs: David Wilkinson (Ire) & Ian Davies (Wal)
TMO: Neil Paterson (Sco)