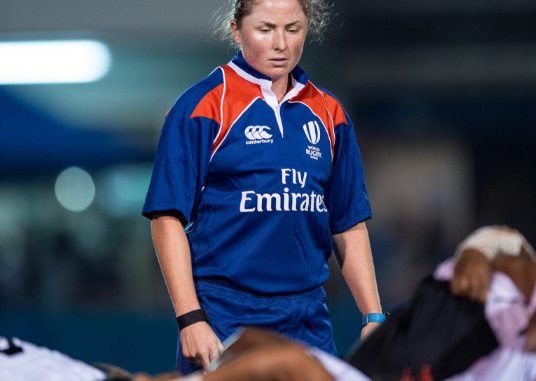 Top female referee Aimee Barrett-Theron has continued to break through glass ceilings by becoming the first female referee on SA Rugby's national panel to take charge of a men's match in a domestic competition.
The former Springbok player, Mrs Barrett-Theron refereed the the FNB Varsity Shield match this Monday between the Cape Peninsula University of Technology (CPUT) and the University of Fort Hare (UFH) in Wellington.  
Barrett-Theron first broke onto the international scene in 2014, at her first Dubai 7s. Last season she was named on the World Rugby Women's Sevens Series panel, with an exciting summer in Rio, officiating in the Olympic Games 7s competition. She then took charge of her first Test between Japan and Fiji in December. So far this year, she was tasked with the responsibility of officiating the opening match in the Women's Six Nations between Scotland and Ireland with the visitors takin the spoils in a hard fought 15-22 scoreline.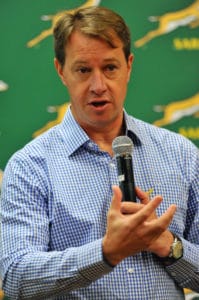 Speaking after the match, SA Rugby CEO, Jurie Roux (pictured right), commented, "We are very proud of Aimee. Her remarkable achievements in the last two seasons are a just reward for all her hard work and dedication to refereeing, and it shows that if one is willing to work hard, anything is possible. 
"I hope this feat inspires other referees, both female and male, to put in the hard yards, so that they too can advance through SA Rugby's refereeing structures. We pride on ourselves on the high level of all our SA Rugby competitions, and the FNB Varsity Cup, presented by Steinhoff International, and the FNB Varsity Shield and Young Guns competitions all fall under that umbrella."
Varsity Cup CEO Duitser Bosman was equally proud of Barrett-Theron's achievement and said their competitions served as the perfect platform for everyone involved to grow and develop their careers; "Several players who made their first meaningful steps in senior rugby at the Varsity Cup and Varsity Shield competitions have become Springboks, while SA Rugby referees Rasta Rasivhenge and Lourens van der Merwe also started out at the Varsity Cup and they both earned international honours.
"So we are delighted that Aimee is also breaking new ground in our competitions, and we hope to see her feature much more in future."