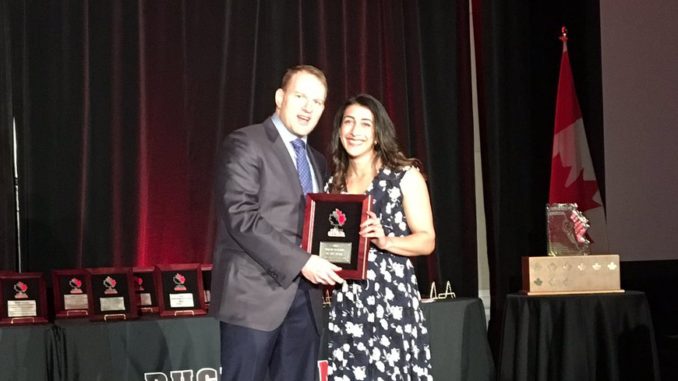 The best of Canadian rugby was celebrated in Vancouver last week at the 2016 Annual Awards Dinner, where referee Rose LaBreche picked up the coveted Match Official of the Year Award for the second successive year.
2016 was an impressive year for the Ontario-born referee.  An appearance at the Rio Olympics was the jewel in the crown as LaBrèche took charge of Colombia v Fiji and Colombia v Kenya matches. That was sandwiched between the 2016 Women's 6 Nations match in February, the Wales Women v Scotland Women in October, and USA v France Women's match in November. In addition, Rose has been a constant member of the HSBC World Rugby Women's Sevens Series ref team, whistling in Dubai, Langford and Brazil, as well as the pre-Olympic Repechage event in Monaco.
So far in 2017, she has left off where she 2016 ended, with continuing appearances in the World Rugby 7s series, before heading into the Women's 6 Nations in eastern Italy, overseeing the Italy v Wales match up at the start of February.
Many congratulations to Rose for her well deserved award.
#RCAwards: Congratulations to @RoseLaBreche, your 2016 Match Official of the Year! #RISEAsOne ??? pic.twitter.com/ow3mTz4C2Y

— Rugby Canada (@RugbyCanada) March 10, 2017
Congratulations to the other 2016 Rugby Canada Award Winners:
Senior Men's Player of the Year — Evan Olmstead
Men's Sevens Player of the Year — Nathan Hirayama
Senior Women's Player of the Year — Laura Russell
Women's Sevens Player of the Year — Kayla Moleschi
Young Female Player of the Year — Sophie de Goede
Young Male Player of the year — Conor Keys
Volunteer of the year — Roxanne Butler
Provincial Union of the Year — Saskatchewan Rugby Union
Coach of the year male — John Daggett
Coach of the year female — Jen Boyd