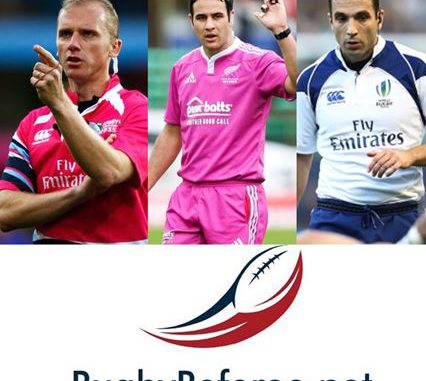 The 6 Nations returns this weekend, with the experienced Wayne Barnes in Cardiff, and 6 Nations debutants Ben O'Keeffe heading to Rome, and Mathieu Raynal blowing the Calcutta Cup match at Twickenham.
In the Women's tournament, Sean Gallagher makes his 6 nations debut in the England v Scotland fixture. Claire Hodnett of England takes charge in Cardiff and Helen O'Reilly heads to Parma.
The Premiership takes a break this weekend as it's the semi finals of the Anglo Welsh Cup. Similarly, the Pro12 are on a weekend off, apart from one rearranged fixture in Ulster. The 7s circuit moves north from the desert of Las Vegas to the snowy city of Vancouver.
RBS Six Nations
Wales vs Ireland
Referee: Wayne Barnes (England)
ARs: Jérôme Garcès (France), Matthew Carley (England)
TMO: Ben Skeen (NZ)
Italy vs France
Referee: Ben O'Keeffe (NZ)
ARs: Nigel Owens (Wales), JP Doyle (England)
TMO: Marius Jonker (SA)
England vs Scotland
Referee: Mathieu Raynal (France)
ARs: Romain Poite (France), Marius Mitrea (Italy)
TMO: Ben Skeen (NZ)
Women's Six Nations
Wales vs Ireland
Referee: Claire Hodnett (England)
ARs: Joy Neville (Ireland), Simon Rees (Wales)
TMO: Eric Gauzins (France)
England vs Scotland
Referee: Sean Gallagher (Ireland)
ARs: Sara Cox (England), Nikki O'Donnell (England)
TMO: Stefano Pennè (Italy)
Italy vs France
Referee: Helen O'Reilly (Ireland)
ARs: Beatrice Benvenuti (Italy), Local
TMO: Simon McDowell (Ireland)
World Rugby Sevens: Vancouver
Referees: Chris Assmus (Canada), Pierre Brousset (France), Ben Crouse (SA), Pablo Deluca (Arg), Paulo Duarte (Portugal), Sam Grove-White (Scotland), Adam Jones (Wales), Richard Kelly (NZ), Mike O'Brien (USA)
Super Rugby – round 3
Chiefs vs Hurricanes
Referee: Brendon Pickerill (NZ)
ARs: Glen Jackson (NZ), James Doleman (NZ)
TMO: Glen Newman (NZ)
Brumbies vs Western Force
Referee: Peter Hoffmann (Aus)
ARs: Federico Anselmi (Arg), Graham Cooper (Aus)
TMO: Damien Mitchelmore (Aus)
Blues vs Highlanders
Referee: Glen Jackson (NZ)
ARs: Brendon Pickerill (NZ), Angus Mabey (NZ)
TMO: Shane McDermott (NZ)
Cheetahs vs Sunwolves
Referee: Rasta Rasivhenge (SA)
ARs: Jaco Peyper (SA), Quinton Immelman (SA)
TMO: Johan Greeff (SA)
Sharks vs NSW Waratahs
Referee: Marius van der Westhuizen (SA)
ARs: Egon Seconds (SA), Stuart Berry (SA)
TMO: Willie Vos (SA)
Kings vs Stormers
Referee: Shuhei Kubo (Japan)
ARs: AJ Jacobs (SA), Cwengile Jadezweni (SA)
TMO: Shaun Veldsman (SA)
Queensland Reds vs Crusaders
Referee: William Houston (Aus)
ARs: Nicholas Berry (Aus), Damon Murphy (Aus)
TMO: George Ayoub (Aus)
Jaguares vs Lions
Referee: Nick Briant (NZ)
ARs: Paul Williams (NZ), Damian Schneider (Arg)
TMO: Santiago Borsani (Arg)
Pro 12
Ulster vs Zebre at Kingspan Stadium, Belfast
Referee: Ian Davies (Wales)
ARs: Aled Evans (Wales), Dermot Blake (Ireland)
TMO: Neil Henessy (Wales)
Anglo-Welsh Cup Semifinals
Saracens vs Leicester Tigers
Referee: Luke Pearce (England)
ARs: Gregory M Garner (England), Jonathan Healy (England)
TMO: Keith Lewis (England)
Exeter Chiefs vs Harlequins
Referee: Dan Jones (Wales)
ARs: Simon Rees (Wales), Gareth Newman (Wales)
TMO: Paul Adams (Wales)
Timekeeper: Eric Bullion (England)