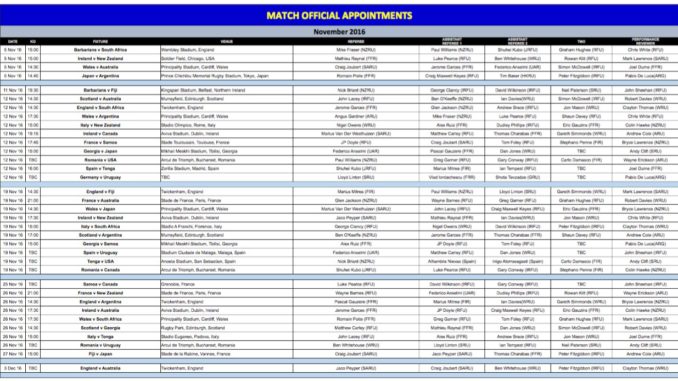 World Rugby have announced the appointments to the series of Autumn internationals which kick off on the 5th November.  Romain Poite of France kicks off with the Japan v Argentina game in Tokyo before Ireland take on New Zealand (Mathieu Raynal), Wales v Australia (Craig Joubert) and Mike Frazer takes charge of the Barbarians v South Africa in London later that day.
With 35 games to appoint to, as well as the previously announced Womens internationals, and the Regal Cup of Nations in Hong Kong where HK, Zimbabwe, Russia and Papua New Guinea play a round robin series, there's plenty of rugby to be had.
Alain Rolland's selection team clearly have an eye to Tokyo 2019 with many new faces continuing to pick up valuable experience on the world stage either with the whistle or the flag.
Download the list here and we'll be uploading the appointments to the WR Calender feed over the next few days.  Go to the appointments page and click on the subscribe link in the calender to add them to your own calender of choice.