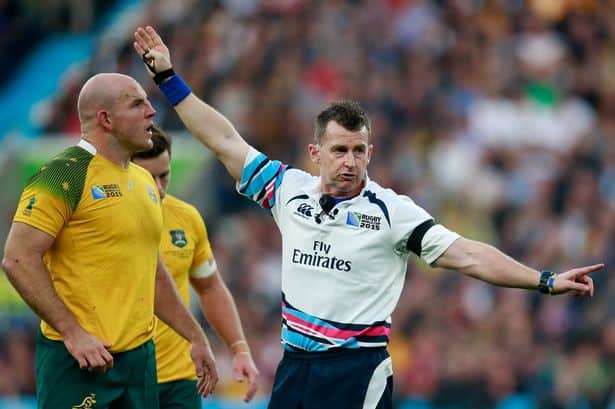 World Cup Final referee Nigel Owens is set to become the most experienced international test referee of all time later this summer when he takes charge of his 71st test match and overtakes the record held by South Africa's Jonathan Kaplan. 
Owens, of Pontyberem in South Wales, made his test debut when Portugal beat Georgia 34-30 in Lisbon in 2004 and he has gone on to take charge of 16 Six Nations matches, 12 in The Rugby Championship (formerly the Tri-Nations) as well as three European Cup finals and, of course, the Rugby World Cup final between New Zealand and Australia at Twickenham last October.  His latest, and 71st test, will be Fiji v Tonga in Suva on 11 June, before going onto number 72 when Australia take on England in Sydney two weeks later.
Owens said: "It's an honour to be appointed to this important match and I will prepare in the same way as I always do. Indeed, every time I take the field as a referee it is an honour and even more so when it's a test match. I don't think anyone goes into refereeing in order to break records like this but I suppose what it says is that I've managed to stay at the top level of the game for a while now so there is a lot of satisfaction and pride that comes with that.
"Reffing the Rugby World Cup final was a wonderful experience and one that I will treasure forever but every match is memorable in its own way and I am really looking forward to this next challenge in Fiji, where I have never refereed before. I have been fortunate to have so many people supporting me along the way – friends, family and other past and present referees as well as the WRU and World Rugby. It has been a hugely rewarding and enjoyable journey so far and I hope to keep going for some time to come."
Chairman of the Match Officials Selection Panel John Jeffrey said: "I would like to congratulate Nigel on reaching this milestone. Over many years, he has shown himself to be one of the best referees in the world and he is a great servant to the game. While the highlight of his career so far was taking charge of the Rugby World Cup 2015 final, he always applies the same high standards to every game that he referees. His longevity at the top level of rugby is a testament to his ability, dedication, hard work and perseverance, and I wish him all the best for this record-breaking match."